Streamlining New Construction Projects With a Little Help from Elite Pumps & Mechanical Services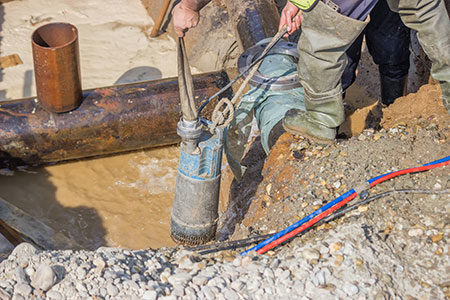 At Elite Pumps & Mechanical Services, LLC, our Texas pump repair team can provide expert help for construction companies in our area in managing excess water on worksites and installing permanent systems for delivering and disposing of water in the most practical way. We offer Texas booster pump supply and repair service options designed to help you manage costs while ensuring the best outcome for your construction project. This can help you save time and money when planning and building in the Texas area.
Types of Equipment We Install and Repair
Our Texas industrial pump repair services cover a wide range of pumps and associated equipment, including motor control systems, submersible mixers, slurry pumps, drainage pumps and sump pumps. We also offer rentals for these types of equipment as part of our overall Texas water pump service and repair solutions. Elite Pumps & Mechanical Services maintains an in-house full-service machine shop that can significantly reduce the amount of time needed to repair or replace components of your pumps and other systems and provides 24/7 on-site field services.
Professional Texas Industrial Pump Services
At Elite Pumps & Mechanical Services, we can help your construction company manage standing water and other issues that could delay your building project. We also offer recommendations, support and sales for booster pump systems for high-rise buildings to ensure adequate water pressure at all levels of your structure. Our team of talented and knowledgeable technicians can provide you with prompt Texas pump repair servicesand system design assistance to ensure that your construction project is completed quickly and according to plan.
The experts at Elite Pumps & Mechanical Services can provide your company with the Texas pump repair services and installation options you need at prices you can afford. Whether you need a short-term pump rental to clear a construction site or a permanent installation of booster pumps for your high-rise building, we will work with you to provide the most practical solutions for your construction project and your budget. Call us today at 281-506-7390 to request a quote or schedule service with us. We look forward to providing the equipment and services you need.