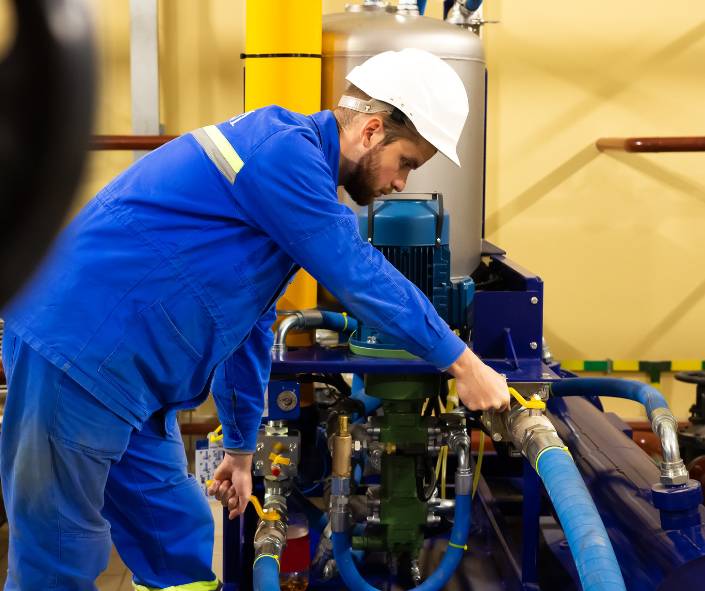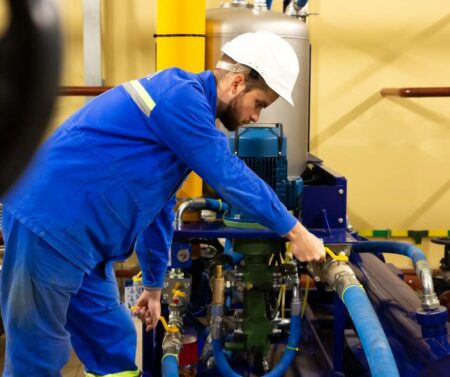 If your process requires a reliable, high speed pump, you need to know about industrial pump repair. This guide will teach you everything you need to know about keeping your pump in top condition, including troubleshooting tips. By following these simple tips, you can keep your process running smoothly and efficiently.
If you need repair or replacement for your industrial pumps, reach out to our team now.
What are High Speed Pumps?
High speed pumps are pumps designed to operate at higher velocities than regular pumps. These faster pumping speeds are achieved by rotating the impellers at higher RPMs, allowing for greater flow rates and faster cycle times. While many applications use slower pumping speeds, there are many applications that can benefit from high speed industrial pumps.
High speed pumps usually require a different design for their bearings, seals, and shafts in order to withstand greater forces generated by their higher velocities. The greatest advantage of high speed pumps is their ability to manage very high Reynolds numbers which can lead to significant energy savings over normal pumps. They are commonly found in industries such as oil and gas, food processing, and pharmaceuticals.
Signs High Speed Pumps Need Industrial Pump Repair
Pumps are crucial components in industrial systems and processes, so it's essential to recognize when they may need industrial pump repair. Poor performance is a key indicator that something is amiss and that industrial pump repair services should be sought. Other signs include:
Increased vibrations

Higher than normal noise levels

Reduced flow rate

Temperatures that exceed the expected range
Ensuring industrial pumps are running properly to prevent malfunctions down the line is paramount for industrial organizations. At the first sign of trouble, get in touch with a team that specializes in industrial pump repair.
Troubleshooting high speed industrial pumps
Proper maintenance of high speed industrial pumps is essential to ensure optimal pump functioning and longevity, especially in pump-intensive environments such as industrial manufacturing or oil and gas operations. Troubleshooting high speed industrial pumps can pose a challenge due to their complexity. Therefore, it's often best left to professionals to troubleshoot and provide pump repair in Texas to high speed pumps.
Common signs that may indicate pump troubleshooting or pump repair is needed include vibration, leakages, and unusual noises coming from the pump itself. Additionally, stops and starts during pump operation can be indicative of minor issues with the pump. Early detection of problems associated with pump operations is key for successful pump repair in Texas.
There are a few troubleshooting steps you can take for malfunctioning pumps, including:
Check the power

Measure voltage

Look for obstructions in the line

Check for loose bases
All of these issues can cause problems for high speed pumps and may necessitate repair. If you can't identify the root cause of the issue, call our professionals for help.
Maintenance Needs for High Speed Pumps
High speed industrial pumps require regular maintenance and servicing to ensure they are functioning at optimum levels. Without a proactive approach to industrial pump service and maintenance, industrial plants can be faced with costly repairs and downtime due to premature system breakdowns. To prevent such costly issues, experts recommend industrial pump service regularly as part of good preventative maintenance practices. This includes:
Proper installation

Operation inspection

Lubrication

Filter changes

Overhauling
Depending on your pumps, you may also need other services to keep them in good condition. This helps prevent unnecessary costs and downtime for industrial pump repair. Overall, taking preventive measures is more economical compared to the cost associated with shutdowns or complete system replacements that are required if maintenance is neglected.
Industrial Pump Solutions from Elite Pumps & Mechanical Services
High speed pumps are just one type of the many different types of industrial pumps that Elite Pumps & Mechanical Services offers repair and supply solutions for. If you think your high speed pump is in need of repairs, be sure to give our team a call. This means knowing the signs your pumps need repair and knowing a few basic troubleshooting steps. Our team also helps with ongoing maintenance needs for pumps to reduce the costs and downtime associated with unexpected breakdowns and industrial pump repair needs. Contact us now to request service from our experts who have experience servicing all types of industrial pumps.