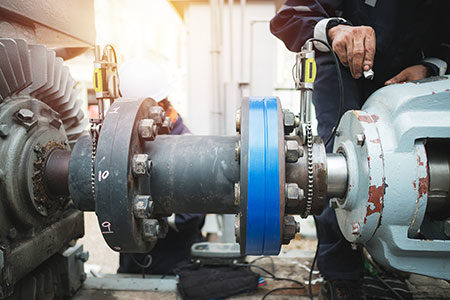 Does your booster pump need Texas pump repair? There are many different things that can go wrong with booster pumps, from leaks to motor breakdowns. Your pump repair experts can diagnose and fix the problem, but we have a few troubleshooting solutions for you. In this article, we'll describe some common booster pump problems, their causes, as well as why you need to choose the right booster pumps for your needs. 
Booster pumps are responsible for increasing water pressure in a piping system. You can find them in high rise buildings, multifamily communities, commercial buildings, as well as industrial systems like wastewater treatment plants and, less commonly, oil and gas transportation systems. We work with booster pumps of all types to help you keep them in great working order. 
What Type of Texas Pump Repair Services Do I Need for My Booster Pumps?
You might know you need Texas industrial pump services if you suddenly have low system pressure or if water stops flowing. If you experience these issues, it's time to call for pump service. Here are some common issues and some things that can cause them:
Low Water Pressure

: Low water pressure can be due to many different issues with your pump. However, most of the time it is an issue with the suction. Suction issues on booster pumps are often due to clogged filters if you're not

maintaining your pumps properly

and cleaning the filters out frequently. Another issue that can cause suction issues is if there is a leak somewhere in the system, frequently either the suction or discharge line. Finally, it could simply be that one of your valves isn't opened completely. 

Pressure Is Too High

: Booster pumps are meant to boost pressure, but they should stay within the pressure limit you give them. If you notice the water pressure is much higher than your set point, it could be that the suction and discharge pressures are too close together. For instance, if the set point is 60 psi, but the pressure coming into the pump  is 58 psi, the pumps may overshoot the goal pressure. In these cases, you may need to install a pressure regulating valve in the suction line to prevent this problem. 

Short Cycling

: If your booster pumps are turning off and on within seconds or minutes, this is known as short cycling. Frequently this is due to a leak in the system somewhere that needs Texas pump repair. It could also be due to a clogged filter or a blockage in the supply pipe. 
Choosing the Right Booster Pumps for Your Needs
Now, the above examples are for when your booster pumps suddenly stop working. In those cases, it's likely that you need Texas industrial pump repair. However, what if they never worked well in the first place or if they're brand new? 
It's essential to choose the right booster pumps for your system. Otherwise, you could face frequent breakdowns and less-than-stellar performance. We commonly see facilities who notice they have issues with their booster pumps from the get-go. In these cases, it's likely that you chose the wrong pump. 
One common issue is choosing an undersized or oversized pump for your application. In these cases, the pump likely won't work as it should, and often experiences premature wear and tear. That's why you need to work with pump experts to find the right pump for your needs. There are many ways to calculate pump size, but our team is here to help.
Texas Industrial Pump Repair & Supply at Elite Pumps & Mechanical Services
When you need quality Texas pump repair, maintenance, and supply, our team at Elite Pumps & Mechanical Services is here for you. We offer cost-effective and practical solutions for all your pump needs. Our team offers field repairs and in-house machining to provide you with the quickest service for your pumps. Call us now at (281) 506-7390 to schedule an appointment or discuss your pump needs with our experts. For emergency service, call our 24/7 line at (832) 77-0939.